Over the past month, the Nifty spot has witnessed a significant consolidation period characterized by a narrowing range of price movements. During this period, the Nifty has predominantly traded within an upward channel, indicating a relatively bullish sentiment. In contrast, other major indexes like Bank Nifty and Nifty IT have experienced a downward trend, reflecting weakness in those sectors. (Nfity Analysis Nifty tomorrow)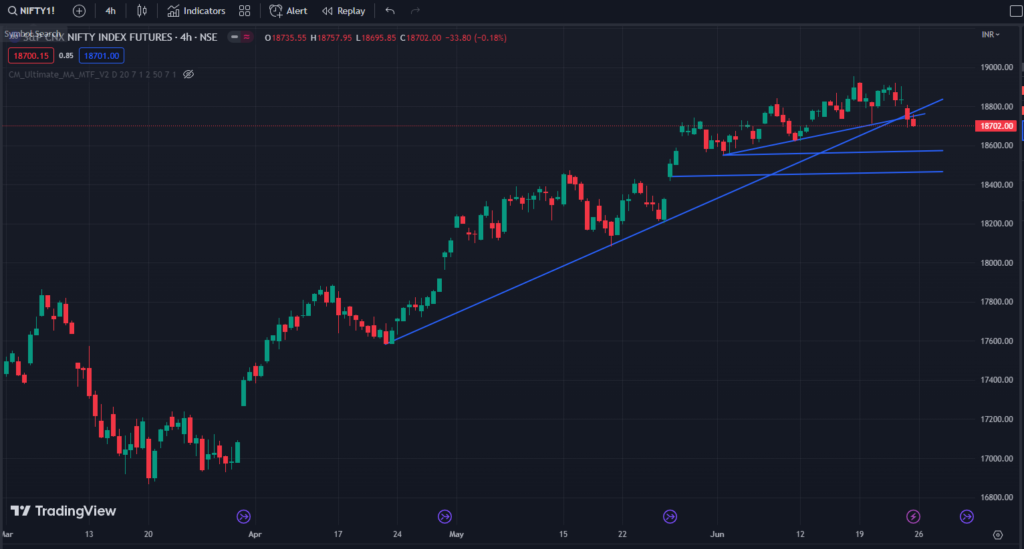 However, a notable development occurred last Friday when the Nifty 50 spot broke below its established trend line. This break signifies a potential shift in the market dynamics and could lead to a change in sentiment. Additionally, the Nifty 50 spot has been trading below its 20-day moving average, suggesting a short-term bearish bias.
As a result of these developments, there could be profit booking or selling pressure in the Nifty 50. Traders and investors should closely monitor the market to assess the sustainability of the downward move. The first support or target level for the Nifty spot is expected to be around 18,580, which is likely to play a significant role in determining the market's direction. If the market fails to hold this level, the second support or target at 18,480 becomes crucial.
Given the current market conditions, it is advisable to exercise caution and wait for fresh buying opportunities. Rather than adopting a broad market approach, it may be more prudent to focus on selective stock-specific buying, where individual stocks show favorable trends or potential for growth.
Please note that this analysis is for informational purposes only and should not be considered as financial advice. Investors should conduct their own research and consult with a qualified financial advisor before making any investment decisions.
Disclaimer:
The above research report is provided for educational purposes only. It is important to note that investing in financial markets involves risks, and individuals should exercise their own judgment and seek advice from a qualified financial advisor before making any investment decisions. The content presented here should not be considered as financial advice or a recommendation to buy or sell securities. The accuracy and completeness of the information cannot be guaranteed. The author and the platform disclaim any liability for any losses or damages incurred from the use of this information. Investors are solely responsible for their own investment decisions.
#NiftyPrediction #MarketForecast #StockMarketOutlook #TradingAnalysis #InvestmentInsights #FinancialMarkets #Tomorrow'sNifty #MarketProjections
Discover the Best Stock Market Classes in Indirapuram, Delhi NCR
Follow us :
https://www.facebook.com/BestTechnicalShareTrainingInstitute
https://www.instagram.com/technicalsharemarket/