(Research Report on Idea stock)
Based on the analysis, Idea's current market price (CMP) is Rs. 7.50. The share price has closed near its 200-day Simple Moving Average (SMA), indicating a potential support level. Over the past 10 weeks, the stock has been trading within an upward channel and has been maintaining levels around 7.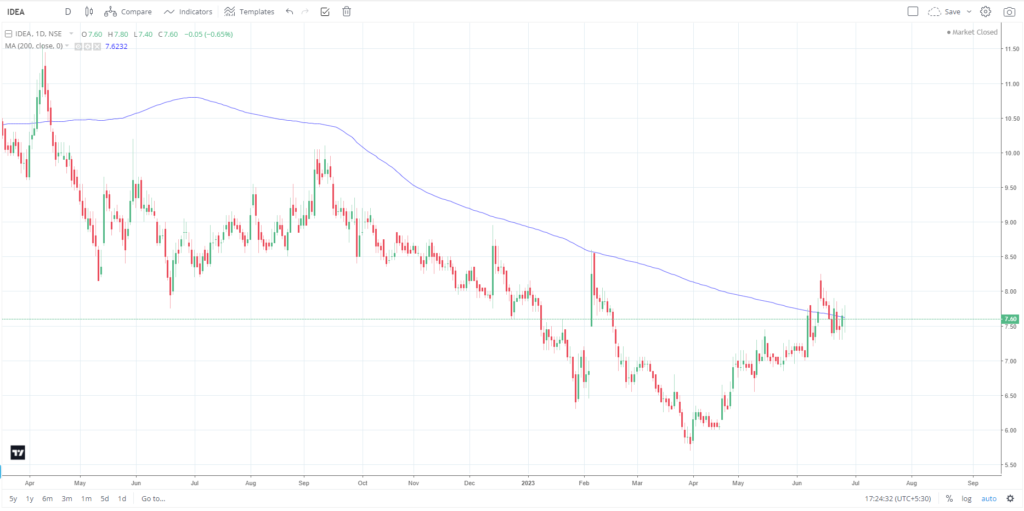 There is a strong support zone between 6.90 and 7.30 for Idea. The stock has made several attempts to move higher in the past 10 weeks, with last week's high reaching 8.25. From an investment perspective, this could present an opportunity to consider investing in the stock.
The share price has been holding the support level, and it is also trading above the moving average, indicating positive momentum. Additionally, other momentum indicators are also on the positive side. Therefore, a buy recommendation can be considered at this point.
The upside targets for the stock are 8.50, 9.00, and 10.20 (holding target). These levels represent potential price targets for the stock to reach in the future.
Please note that investing in stocks carries risks, and individuals should conduct their own research and seek professional advice before making any investment decisions.
Disclaimer: This analysis is provided for educational purposes only and should not be considered as financial advice. The decision to invest should be based on individual discretion or consultation with a financial advisor. The accuracy and completeness of the information cannot be guaranteed. The author and the platform shall not be held responsible for any losses or damages arising from the use of this information.
Learn from us :
Stock Analysis
Investment Opportunity
Positive Momentum
Support Levels
Moving Average
Technical Indicators
Upside Targets
Stock Price
Share Market
Investment Potential
Market Trends
Financial Analysis
Stock Performance
Trading Strategy
Market Volatility
Investor Confidence
Stock Market Analysis
Risk Management
Financial Advisor
(Research Report on Idea stock)
Discover the Best Stock Market Classes in Indirapuram, Delhi NCR
Follow us :
https://www.facebook.com/BestTechnicalShareTrainingInstitute
https://www.instagram.com/technicalsharemarket/